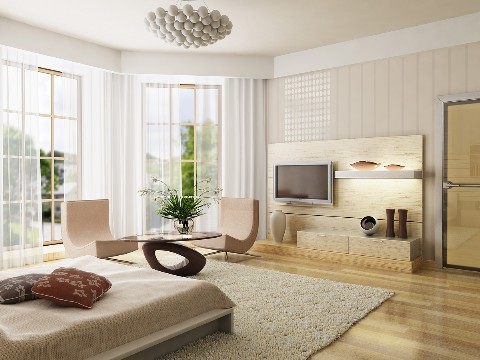 Maximize "Curb Appeal"
Repaint the front door and trim.  Repaint the rest of the house, if needed.
Wash the mailbox and paint if necessary.
Get an attractive mat for the front door for people to wipe their feet.
Replace worn, badly stained, or personalized door mats inside and out.
Clean out the flowerbeds.   Make a distinct border between the beds and lawn.
Invest in a few flats of flowers that will last the entire growing season and will add color and beauty to the front of your home.
Prune bushes and trees. Remove any dead shrubs or low laying tree limbs.
Clean the patio, porch or decks of all small items, such as small pots, toys, etc.
Move all garbage cans, extra building materials and gardening supplies from the yard into the garage or shed.
Sweep all areas and walkways.  Use bleach to clean any mildew stains.
Clean the swimming pool, spa or hot tub.
Use driveway cleaner to remove oil stains from the driveway and garage floor.  Laundry bleach can also help remove stains on concrete.
Show the House is Well-Maintained
Remember, when prospects see things that need attention, they wonder about what they can't see.
Check all light fixtures.  Clean and replace all burned out bulbs.
Fix leaky plumbing.
Clean gutters and or roof fro dry rot, leaks and debris.
Check external structures, such as patio covers, gazebos, or sheds.  Repair, repaint, or clean as necessary.
Check and clean all screens and windows. Repair or replace as appropriate.
Test all fences, gates, and latches.  Repair or replace any weakened areas.
Help a Buyer Mentally "Move In"
Open the front door and make sure it doesn't squeak, groan, or drag.
Shampoo and deodorize the carpets.
Wipe down walls to remove smudges; paint walls if they look worn or are an unusual color.  Choose a neutral color if you repaint, but avoid white as it is too stark.
Rearrange and remove some furniture throughout the house to make rooms appear larger.
Remove all unnecessary objects on the furniture throughout the house/
Place all money and jewelry and other valuables in a secure, out of sight location.
Remove clutter, e.g. piles of newspapers, magazines, toys and other objects.  Even mail distracts buyers from the fine points of a room and contributes to making the room look smaller.
Take down family pictures and some of the objects on the walls.  A gallery of family photos or large collections frequently distracts buyers and causes their focus to drift away from the house.
Clean out closets, cabinets and drawers.  This effort will make storage space look larger (You're going to have to do it anyway when you move).  Box and label the extras and put them in the garage.
It is advisable to remove any fixtures that you do not want to include with the sale.  For example, an antique chandelier in the dining room should be replaces before showing your property or it could (and probably would) become a key negotiating item for the buyer.
Clear all unnecessary appliances from the kitchen countertops.
Remove messages and artwork from the refrigerator or other kitchen appliances.
Clean all kitchen appliances paying special attention to the oven.  It can make or break a buyer's opinion of a kitchen.
Locate operating manuals for all appliances.  Have warranty information available.
Remove all extra items from tubs, showers, commode top, and countertop in the bathroom.  Coordinate towels in one or two colors. Replace shower curtain if necessary.
Display colorful soaps.
Keep toilet lid down.
Keep beds made.
Make sure the caulk in the bathrooms, showers, and sinks is in good condition.  Re-caulk if necessary.  Grout should also be in good conditions and clean.  Replace if necessary.
Wash all windows and make them sparkle.  Clean windowsills and window jams.  Wash any blinds.
Clean the fireplace and hearth.  If winter, have logs stacked ready for the fire.  If summer, replace the logs with a flower arrangement.
Sweep the garage and keep it tidy.  If you have too much stuff removed from the house consider renting a small storage space rather than fill the garage with boxes, making it look smaller.
Put pets and pet food dishes and litter box outside or in the garage.  If not using a clumping litter, do so.  It keeps odors to a minimum.
If you don't have time to clean your house it is strongly recommended that you hire a professional cleaning service to clean your house from top to bottom.  A clean house gives the impression of a well cared for house and offers a subtle assurance to buyers.
Additional Staging Ideas 
Visit new home models to get more ideas on how to "stage" your property.  There are any things you can do to make the house inviting.  Many of the buyers that visit your house will also visit new home subdivisions in the area.  Make yours competitive.  HGTV has 30 minute show that portrays the process from listing to getting the house "show ready" for an Open House.  Very little money is spent but the ideas are numerous in each episode. Tune in for ideas.
Try the following ideas from new home models:
If you have a separate dining room that isn't used on a daily basis, set the table as if company is coming for dinner.  You may want to invest in some colorful napkins and napkins rings.  If you have a dimmer switch on the chandelier, turn it on low.
Stage the spare room as if guests were coming tonight.  Put one or two books on the night stand and a small dish of fruit.  Turn on the bedside lamp.
Use your children's toys to stage a play area.  Sit "Teddy" and "Dolly" at a small table for afternoon tea.
In the family room sup up a partially competed jigsaw puzzle or a small basket of needlework.
Add a jar of colored pasta, special vinegar or decorative tray on the kitchen counter after removing appliances and clutter.